| | |
| --- | --- |
| | We talk a lot about price movement of single cards and sports trading card boxes on The Sports Card Show Podcast. Each month we'll pick some hot items in the sports card world and monitor the price action over the month. Sometimes we make prediction on if the price is going to go up or down. |
Details

Hits: 1339
I listen to lots of KNBR 680 on the radio during the day and certainly whenever the San Francisco Giants play. During most of the day they run sports talk, and usually the talk centers around the Giants this time of year.

One of the topics that have people calling in quite a bit about is the play of 2-time Cy Young Award winner Tim Lincecum. The Giants are 2-11 when Timmy starts for them this season, and even the much maligned Barry Zito has looked better most of the year. Tim's last few months on the diamond have by far been his worse stretch as a professional and fans really seem to be worried about Tim's future as a dominant pitcher in the league.

Over the last few days of listening to the radio here are some of the fan suggestions to improve Tim's play:

Send Him Down To Fresno (The Minors)

Visit The Pitching Guru Barry Zito & Alex Smith Saw

Let Barry Bonds Talk To Him

Talk To Pablo About Gaining Some Weight

I honestly don't think Tim has too much to worry about right now, as he has proven that he can bounce back from a rough stretch of games before. The Giants announcers have noted that his fastball velocity is no longer in the 95-96 MPH range, which means he has to rely on control and his other pitches. Other pitchers have learned how to do this in their career, and I'm sure Timmy will adjust over time.

Photo: Taken By Me!
With all that said, the big question I had was ... are collectors paying less for his cards because of his bad play this season?

I went back and looked at completed auctions of his 2007 Bowman Sterling Autograph on eBay from October 2011 to June 2012. You can see that people were paying a pretty consistent price for a while, and actually the slide in price started pretty quickly once the season started. Personally I think this card will hold in the $60 - $70 range for a while before it falls below those levels if Lincecum continues to play poorly. If you like to buy & sell singles (flipping) you're upside value on these cards is around $80 - $90 ... so if you can buy one at around $60 or less, you can make a nice profit.

2007 Bowman Sterling Tim Lincecum Autograph RC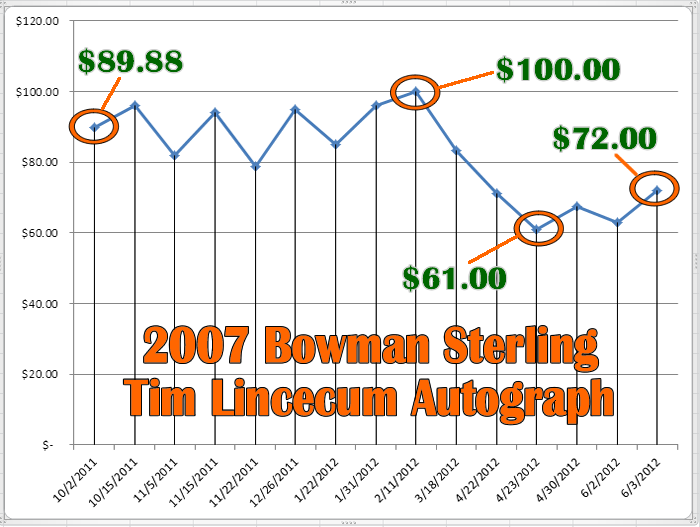 Sports Card Price Tracker Blog
---
Details

Hits: 2056
Bryce Harper has been on most collectors radar for a while now. He's was the centerpiece of every 2011 Bowman Baseball product, and now is being featured in 2012 products with that RC Card Logo no one really ever understood.

Even though Bryce Harper had many cards released before his 2011 Bowman Autograph #BP1 - I kind of look at this as his first official autograph card (not that the Upper Deck USA or AFLAC ones aren't nice). So I wanted to see what prices it has sold for over the course of the cards' life. 2011 Bowman Baseball was released in early May 2011, unfortunately I couldn't get data for the first few weeks of release, however I have good data from June 1st 2011 to the present.

 

One thing this graph shows is what happens when more & more releases come out with Bryce Harper Autographs.

2011 Bowman Platinum - July 27, 2011

2011 Topps Heritage Minor Leagues - September 21, 2011

2011 Bowman Chrome Baseball - October 19, 2011

2011 Bowman Draft Picks & Prospects - November 23, 2011

2011 Bowman Sterling Baseball - December 21, 2011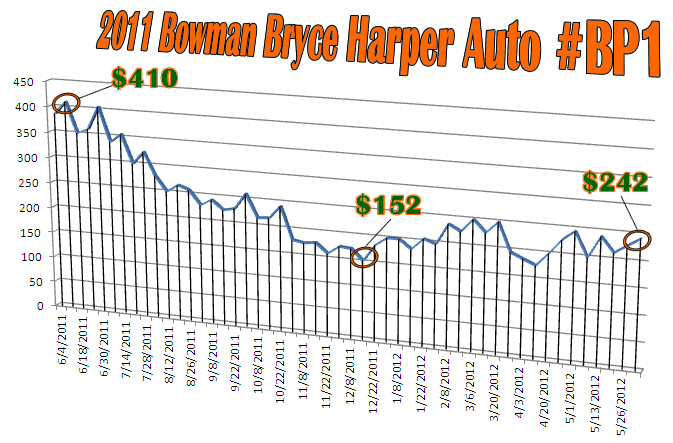 It appears that as more 2011 releases came out, the less collectors were willing to pay for the 2011 Bowman BP1. The trend starts to reverse towards the end of the product cycle when 2011 Bowman Sterling comes out in December. I think if I was a buyer of baseball prospects, I would want to keep this in mind as the cards come out during the course of a guys career. I would expect that Bryce Harper will make appearances in 2012 Topps Chrome, 2012 Topps Finest and some other sets for the 1st time in 2012 ... that might dilute his values despite playing well on the field.
There is no doubt that this young player has all the talent to be one of the better players in the game. Collectors have been paying big money for his cards for a while, but you certainly could have bought this particular card at better times than others. This just goes to show you that even with all the hype in the world, and in some cases living up to it ... you still have supply vrs. demand forces that make cards go up/down. My guess is that we are only just beginning to see how popular this 19 year old kid can get, if he can somehow be apart of the 2012 MLB All-Star Game, that would boost his popularity among more casual fans. If this card ever gets down to $150 again, I might be a buyer.
{module 65}
Details

Hits: 1904
I was listening to one of the biggest AM Sports Talk Radio Stations in California, KNBR 680, the other day and I heard someone say Mike Trout was the best player on the Angels and by seasons end - he might be the best player in the American League.

I thought, wow ... wish I had one of his rookie cards.

Then I kind of wanted to know how much has his main RC card gone up since being called up to the MLB? Most fans already knew about Trout, as he played 40 games in 2011 while batting .220 with 5 home runs. He was also one of the top rated prospects in all of baseball for most of his minor league career.

I wasn't surprised to see he had a 'baked in price' of around $80 - $85 in January, which is essentially the slowest time of the year for baseball. Not much happened for Trout until he got called up to the majors on 4/28. After a slow start, he has really picked up his play and has gotten the attention of the national media for his play. While he's not your classic power hitting prospect, not too many of those guys exist these days, so I expect his prices could stay at the current levels without big home run production.

The data from below is from a sampling of year to date raw (non-graded) Mike Trout autographs cards from 2009 Bowman Chrome Draft Baseball. Only auctions (not buy-it-now) listings were used.

2009 Bowman Chrome Draft Picks & Prospects #BDPP89 Autograph Card on eBay

Sports Card Price Tracker Blog
{module 60}