Details

Created on Sunday, 04 May 2014 01:58
By @SportsCardNews -
Food Chain
Let's get one thing straight. Panini and Topps could care less about your shop or online business. You are a dime a dozen. Panini and Topps sell products to wholesale distributors or quasi ones. Those are the real customers. That's who Panini and Topps stroke off. You know who else gets fluffed and buffed? The sports leagues and athletes. Without a license from a sports league or players association, just about everyone at Topps and Panini would be looking for another job.

Where are you on the food chain? Not anywhere near the top. Last I checked the sports leagues, players (and agents), PBM Graphics, card companies, and distributors all get dimed out before you do. All five have built in margins before the product hits your hobby shop or Breakers.TV webcam. Think about that before starting a business, especially one centered around selling boxes of sports cards.
---
Anyone Can Buy Wholesale. Literally.

Despite all that, want to buy sports card boxes at wholesale? Easy. Might be able to complete all the paperwork from your sofa depending what state you live in. Figure out the requirements for your state, and you could be placing an order for some boxes by the end of the day.
Make sure to pay any sales tax, if applicable, to your state. Pay your state/federal income tax like you normally would. You don't even have to sell the boxes if you don't want to. Just tell the sports card distributor you "sell online" or do "group breaks". There are several distributors that will sell to you without any or much vetting process. Or, once you have your tax id number, just sign up for the business to business Dealer Net and buy products off there.
---
Quasi Distributors

Maybe you don't want to fill out a few pieces of paper and deal with some minor tax stuff. No worries. You can and will find boxes of cards priced near or below that of wholesale distributors. You are probably already familiar with these places, DA Card World, Blowout Cards, Atlanta Sports Cards, Big T Sports Cards, Steel City Collectibles are a few in this category. Anyone and everyone can order from these websites.
Here are a couple newer products that are cheaper at quasi-distributors. Prices are from May 3, 2014.
| | |
| --- | --- |
| Wholesale Price | Quasi Wholesale Price |
| 2014 Topps Tribute Baseball: $198 | Blowout Cards Price: $194.95 |
| 2014 Famous Fabrics Big Apple Baseball: $85 | Steel City Collectibles Price: $74.95 |
| 2013-14 Panini Totally Certified Basketball: $85 | Blowout Cards Price: $84.95 |
| 2013-14 Score Hockey Jumbo: $50 | Steel City Collectibles Price: $49.95 |
---
Illegal Rafflers Can Become Dealers



It's astonishingly easy to buy sports card boxes at wholesale cost. There is no barrier to entry. Hobby shops and online sellers have no protection aside from their reputation and level of customer service. The card companies and wholesale distributors don't weed out bad actors, essentially allowing anyone to become a dealer.
U of Mississippi Razz, whose business email is: This email address is being protected from spambots. You need JavaScript enabled to view it. was doing breaks of 2014 Bowman Baseball Jumbo, I guess, in between running illegal raffles. During the few minuets I watched his live stream on BoxBusters.tv, the breaker used the homophobic slur f****t.
---
MVP Sports Cards
3333 Bardstown Rd Suite 5  
Louisville, Kentucky 40218

This card shop, located in Kentucky also advertises that they conduct illegal raffles (razz, razzing) on BoxBusters.TV and their Facebook Page.

---
Sin City Sports Cards
3650 S. Decatur Blvd #11
Las Vegas, NV 89103
Well known in the "razzing" community, Sin City Sports is supposedly closing their brick and mortar location. I've witnessed Sin City Cards raffling off spots for a case of 2013 Panini National Treasures Football on Breakers.TV.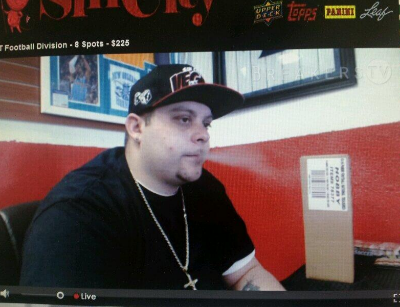 ---
For a short time DA Card World conducted illegal raffles. Quasi distributors aren't necessarily the most noble or sharpest knives in the drawer. If a company is "proud" to take part in illegal activity, what else might they be willing to do?
---
Side Note: Are "Group Breaks" Even Legal You Jerk?
I have no idea. Maybe they are illegal. You could pay the best lawyer to tell you they are legal or not. Guess what? Lawyers don't make laws. If you encounter legal trouble for conducting group breaks, guess what your lawyer will say? "That's unfortunate. Let me look into this for you (pause) at $250 an hour. Trust me, we can beat this."
Raffles, like the ones you clowns do on BoxBusters.TV, are clearly illegal. Clear as day. If you need a lawyer to explain how those raffles are illegal you might be the dumbest person on planet Earth.
---
Products Are Weak

Blowout Cards, DA Card World and other quasi distributors would sell boxes for more if they could. Problem is, there isn't much demand for sports cards. Shocking, I know. You think Topps and Panini give a crap about the quality of their products when they let athletes sign cards like this?
---
Panini and Topps are trying to "hit the numbers", just like every business you've probably worked for. And in a low margin game like producing licensed sports goods, attention to detail isn't high on the priority list. Churning out sticker applied autographs and using redemption cards clearly doesn't suggest they care about the perception of their product. Panini and Topps know they have enough people out there with a gambling itch. Are you one of them?
---
Allocations
So wait! There are a few products each year that have demand. Yes! Whoo Hoo! This is when hobby shops and online sellers make all their money right? Wrong! This is when Panini, Topps, and the wholesale distributors cash in!

Remember where you are on the food chain. You think you're going to make money on Bowman and National Treasures before those ahead of you at the dinner table? Please. You're going to get what they call "allocated". If you bought enough of the junky products over the last year, maybe you'll get all the good boxes/cases you need. Maybe. The card companies and distributors eat before you do. Remember that.
---
Comped Out

When was the last time Topps or Panini invited you to the NFL Rookie Premiere, or a VIP party? Never? Shame, because you could have gotten face time..... with your distributor..... at these events. One sports card distributor told me he had been going to the NFL Rookie Premiere for the last 15 years. The freebies that get sent distributors way will make your mouth water. Autographs, jerseys, free stuff, a direct line of communication. You shop owners and breakers don't get much of that. Think about where you are on the food chain to figure out why.
---
Eliminate Bad Actors

Anyone should be given a shot to start a sports card business. But there needs to be far more regulation from distributors and card companies when bad sellers arise. Illegal "razzers" should not be able to buy from a wholesale distributor and conduct a business. It's a slap in the face to hard working shop owners and group breakers trying to run a legitimate operation. It takes money out of their pocket. Selling cases/boxes is hard enough, allowing individuals who freely flaunt illegal activity to become dealers gives further credence that the sports card industry is a joke.

---
Details

Created on Friday, 18 April 2014 03:18
General Admission:
$20 Advance - $25 Day Of Show
      
VIP Package:
$129 Advance - $139 Day Of Show -
Includes admission to all days. Gift Package. 12 select free autographs. + More+     

Super VIP Package:
$179 Advance - $189 Day Of Show -
Includes everything in VIP + Double Gift Package, 18 select free autographs and Free Parking.
 
All Access VIP Package:
$229 Advance - Includes everything in VIP + First in line privileges to autograph guests. 5 Free TriStar Autograph Authentications and 2 Photo opportunists with autograph guests.
 
All Access Super VIP Package:
$279 Advance - Includes everything in All Access VIP + Double Gift Bag, 18 select free autographs and Free Parking.
 
NOTE: VIP guests can get in 30 minuets early which can be helpful if you want a popular wrapper redemption offer or get in line for an early autograph signer.

- Buy Tickets on NSCC Website -

You can also buy admission tickets the day of the show. No lines, real easy, you'll just pay a couple $ more.

 

---

 
Panini's 3rd Annual National VIP Party - Information
 
 
 

---

 
2014 National Free Giveaways

Panini 2014 Wrapper Redemption Packs

- 60 Total Cards
- Rookies #/499
- Memorabilia Rookie #/99

 

Card Images/Info and Here

Details on what boxes you need to purchase
in order to get packs of these cards is here.

---

Panini 2014 VIP Set

- 6 Total Cards

Johnny Manziel - Cleveland Browns
Blake Bortles - Jacksonville Jaguars
Jose Abreu - Chicago White Sox
Masahiro Tanaka - New York Yankees
Dante Exum - Utah Jazz
Andrew Wiggins - Cleveland Cavaliers

 

A coupon for this set will be inserted in every VIP
package ticket holder. You can redeem the coupon
at the Panini America booth for the six card set.

 

---

Tools of the Trade Update Wrapper Redemption

- 6 Total Cards

Base Jersey #/175
Prime Jersey #/25
Super Prime Laundry Tag #1/1

LeBron James - Miami Heat
Tim Duncan - San Antonio Spurs
Damian Lillard - Portland Trailblazers
Derrick Rose - Chicago Bulls
Chris Paul - LA Clippers
Rajon Rondo - Celtics

Promotion limited to the first 200 customers during
each day of the National and will be available through
the purchase and redemption of the following products:

2013-14 Gold Standard Basketball
2013-14 Elite Basketball
2013-14 Prestige Basketball
2013-14 Prizm Basketball
2013-14 Pinnacle Basketball
2013-14 Totally Certified Basketball

---

Donruss Wrapper Redemption

- 3 Cards

Masahiro Tanaka - New York Yankees

Jose Abreu - Chicago White Sox

Yordano Ventura - Kansas City Royals

The first 50 collectors who bring and open a hobby box
of 2014 Donruss Baseball to the Panini America booth
during each day of the National will receive a three-card
National Rated Rookie Wrapper Trade-In pack featuring
the three cards with a special "National" stamp.

---

 

Upper Deck Wrapper Redemption

Purchase 5 Packs Of
2013 Fleer Retro Football
2014 SPx Football
2014 Upper Deck Football (Hobby)
2013-14 Fleer Retro Basketball
2013-14 SP Authentic Basketball
2013-14 NHL SP Authentic
2014 SP Authentic Golf
2014 Goodwin Champions

Or 1 pack of 2014 SP Game-Used Golf

Wrapper redemption starts at 10:25 on Thursday - and you
can recieve up to 4 packs per day, per person. You must
purchase the packs from a Certified Diamond Dealer with
an Upper Deck issued voucher. Autographs are randomly
inserted in packs, and every 25th person who redeems packs
at the Upper Deck booth gets an autograph card.

More Info/Photos and Here

 
 
 
 

---

 

Topps Allen & Ginter Mini Wrapper Redemption

- 2 Cards

Jose Abreu - Chicago White Sox
Masahiro Tanaka - New York Yankees

Collectors must open 1 Hobby Box of 2014 Topps
Allen & Ginter Baseball at Topps' booth #455 and 
you get 1 of the mini cards above.

---

 

Topps Mini Card Wrapper Redemption 

- 8 Total Cards

Jadaveon Clowney

Johnny Manziel

Derek Jeter

Jim Brown

Jordan Cameron

Mike Trout

Albert Belle

Bob Feller

Collectors must open 3 hobby packs of any 2014
Topps product (except for 2014 Topps Opening Day
Baseball and 2014 Topps Mini Baseball) at Topps'
booth #455 and you will get 1 of the mini cards above.

 
 
Read about past Nationals to know what to expect in Cleveland for 2014.
2013 NSCC Chicago
2012 NSCC Baltimore

---

Videos From Past NSCC Shows

2013 National Sports Collectors Convention - Chicago
2012 National Sports Collectors Convention - Baltimore


---

Photo Gallery's From Past NSCC Shows

---

 
Details

Created on Tuesday, 18 March 2014 19:01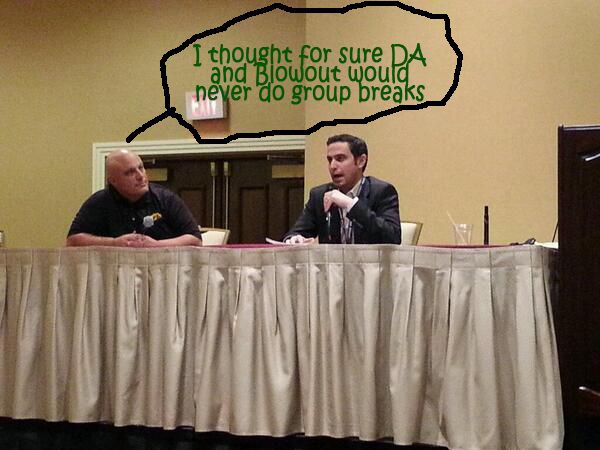 Photo: Michael F (@MikesStadiumSC)
Advanced Photoshop Work: Me
I was able to sit on the sofa the last few days and follow the 2014 Industry Summit via twitter and all the 
"inside" sources I have .... which are none. Maybe I missed it, but I didn't see an announcement bragging about
a 'record breaking' number of attendees. That's ok - less is more often times. 
Seemed to me (from the sofa) Panini stole the show with some 'innovative' ideas they've been working on.
A patch card DB, Panini Rewards - that replaces redemption cards, and 14/15 NBA rookie cards are all things
(if Panini pulls them off) should go a long way in engaging collectors even further. 
Topps (from the sofa) seemed about the same. Said they were making less product and they are "made to order"
so I guess that means the sales are down. They plan to advertise on Nickelodian. I bet that's not cheap. If sales are
down, it's because your product isn't compelling - not because you don't have ads on Nickelodian. Good luck.
Upper Deck is 25 years old, but acts like one twice as old. At least there are signs of life in SoCal.
Don't expect many innovations as they are just buying time to sell once that's possible.
Group Breakers. The companies are on record they account for about 10% of sales. That's no chump change
when you add it all up. That's probably why I've been very vocal on looking for ways to legitimize that business
model. They should work together on figuring out ways they can operate without risk of breaking raffle and 
lottery laws. Trust me, 10% of $100,000,000 is enough to get a lawyer out of bed one day. 
Thanks to the tweeters from the event. My comments below are not meant to patronize their work in any way.
Day 1
Brian Gray is here. #lvis

— Sooz (@yanxchick) March 16, 2014
After posting a sheepish apology on Leaf's Facebook page
---
Day 2
Leaf acquires the rights to Sportkings http://t.co/KHLvUx4jEr

— Sooz (@yanxchick) March 17, 2014
 For a heck of a lot less than you think .....
---
Topps: This year, we have them signing already (during spring training) and about 5 months ahead of the game #lvis

— Sooz (@yanxchick) March 17, 2014
 So .......... they just figured out this would be a good idea?
---
Topps: redemption site is antiquated and will merge that with regular site soon. #lvis

— Sooz (@yanxchick) March 17, 2014
This is probably more difficult than making the cards bro!
---
Topps' David Reel: This year we are going to sell significantly more hobby than retail. #lvis

— Sooz (@yanxchick) March 17, 2014
That's because it's not selling through at retail.
---
Topps: New for 2014 Topps Tek, Stadium Club and Topps Dynasty (a high-end like no other) #lvis

— Sooz (@yanxchick) March 17, 2014
 Tek wasn't that popular back in the day, but Stadium Club was pretty cool.
---
Topps: Average collector is older than we would like. Engage kids at Play 60 (nfl), ads on TV for BB on Nick, CN, Disney #lvis

— Sooz (@yanxchick) March 17, 2014
Ads on TV are hard to measure, expensive and in the hands of an amateur - a great way to burn money.
---
So along with buying cards from a website, a collector can also pick the option of picking cards up at a physical shop, no shipping charges

— Sooz (@yanxchick) March 17, 2014
Referring to a Beckett Business Solutions service. Seems like a good idea.
---
BBS: there is a need for a employees. One of the ways we failed is by having 1 or 2 employees at shops #lvis

— Sooz (@yanxchick) March 17, 2014
 I owned a card store. You can't have employees if margins are < 10%
---
Larry: After a due diligence process we did what we needed to do what was best for the industry and UD exclusive was the way to do. #lvis

— Sooz (@yanxchick) March 17, 2014
Where "due diligence" = who offered the most guarantee $$$$$$$$$$
---
Larry: The things we felt with an exclusive outweighed those aspects. Bringing down # of brands, bringing a .99 cent brand back #lvis

— Sooz (@yanxchick) March 17, 2014
Remember the NBA said similar things when Panini originally got an exclusive. Panini now releases 20+ products per year.
---
NHLPA is running a promo. Putting up $75K. Card show owner provides a plan on how to get kids in and collect hockey cards #lvis

— Sooz (@yanxchick) March 17, 2014
That's the million dollar question - but they are only offering up 75k. 
---

Panini is still supposed to do (NHL) stickers still, so I hear #lvis

— Sooz (@yanxchick) March 17, 2014
That's because fat cat in Italy screamed - STICKERS MAKE MONEY!!!!
---
          Goldin employee: my boss wants to be the Jeff Bezos of the industry (re: putting money back into company) #lvis
— Sooz (@yanxchick) March 17, 2014
Amazon doesn't make a profit. Shareholders have though ....
---
Day 3
Panini: Adding a Flawless Hockey card in each National Treasures BOX to say "thanks." #lvis

— Sooz (@yanxchick) March 18, 2014
That's nice. If I spent $500 on a box of trading cards, I'd think the company would thank me.
Update: Check that, no thanks
---
Panini will be doing ... FLAWLESS FOOTBALL! But not at the same price point. #lvis

— Sooz (@yanxchick) March 18, 2014
Yes, that's because it will be $16,000 a box.
---
Panini: colors galore in Prizm, lower box price point with still two autos in every box #lvis

— Sooz (@yanxchick) March 18, 2014
Sweet. Hope they still do JUMBO boxes that deliver further value.
---
For the NBA Draft Rookie Exchange, you will get a card numbered 1-25 and get the player drafted in that slot #lvis

— Sooz (@yanxchick) March 18, 2014
Worked well back in the early 2000's - not sure why they don't do this every year.
---
Read our latest letter to $EBAY shareholders at http://t.co/kAuEwYUys2

— Carl Icahn (@Carl_C_Icahn) March 18, 2014
I thought I was the only person in the world who questions business models?
---
With a QR code on back, you can scan the card and find it on the Panini site. If the patch doesn't match photo - it's fake #lvis

— Sooz (@yanxchick) March 18, 2014
So, in other words Panini is creating a patch database for high-end cards. #lvis

— Sooz (@yanxchick) March 18, 2014
Hope everyone else in the business copies this.
---
Panini announces Panini Rewards, which will replace redemptions moving foward #lvis

— Sooz (@yanxchick) March 18, 2014
A reward card in pack (can use on IOS and Android, or web). Register card and build rewards toward cards, items, experiences #lvis

— Sooz (@yanxchick) March 18, 2014
Rather than a redemption for a specific player, you get a reward point. So you pick the card you want (if you have enough points) #lvis

— Sooz (@yanxchick) March 18, 2014
I wonder if Kevin Isaacson would call this innovative?
---
Panini: 2013 was a mixed year. Football had a lot to do with that #lvis

— Sooz (@yanxchick) March 18, 2014
Can't say I didn't tell all ya'll (on August 11, 2013)
---
Panini's Tim Franz has seen some YouTube vids or Breaker.tv that "makes me want to vomit." #lvis

— Sooz (@yanxchick) March 18, 2014
I thought they were saving the hobby!!!!!!!
---
Manufacturer guesses on what % of wax moves through breakers Topps 8-10%, UD 10-15% and Panini did not guess.

— Michael F (@MikesStadiumSC) March 18, 2014
I bet sales to un-opened box retailers are down similar percentages.
---
Topps: We get about 3,000 orders a week, send about 4,000 #lvis

— Sooz (@yanxchick) March 18, 2014
They say this to a group of hobby shop owners mind you.
---
Topps: Taking steps to be more transparent with weekly updates #lvis

— Sooz (@yanxchick) March 18, 2014
What a great idea Topps!!!!
---
Topps: 6 months ago was bad, it's not perfect yet.We are getting there slowly #lvis

— Sooz (@yanxchick) March 18, 2014
6 months ago was bad? Before that must be a term not appropriate for children then.
---
Topps: Even 30 days out tough for CL. Making changes up until day of packout. #lvis

— Sooz (@yanxchick) March 18, 2014
Exactly. If the product is live and there's no CL - then you can complain.
---
Kevin Isaacson asks if people are checking Twitter ... Definitely, not me. #lvis

— Sooz (@yanxchick) March 18, 2014
Shows you how clueless this guy Isaacson is.
---
UD: Hockey 2014-15 calendar: Aug: MVP; Sept: OPC; Sept: Fleer Ultra; Oct: Artifacts; Dec: UDS1 #lvis

— Sooz (@yanxchick) March 18, 2014
 So if you like high end hockey .... you've got plenty of time to save up!
---
Topps today, after Panini's Industry Summit announcements pic.twitter.com/Qw02N6ois0

— MikeE P (@CubsfanP) March 18, 2014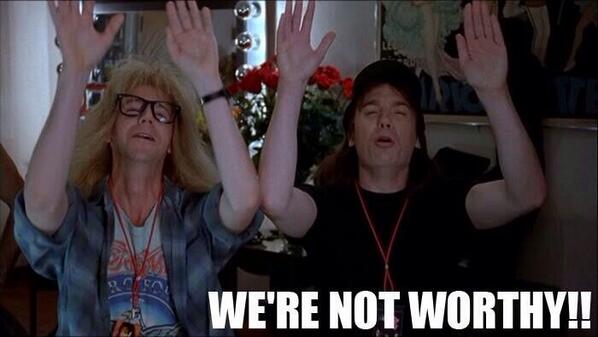 lol
---
Day 4
Nothing cool ever happens this day .... at the Summit that is.
Details

Created on Friday, 28 February 2014 00:36
16:51:37
Let's Be Exclusive
I remember in high school you'd go exclusive with a girl you thought was just right - even if it meant missing out on the benefits of being single. First and foremost, it's guaranteed pu$$y, additionally it's less work to just call one girl than have to go out each friday night and find a new one.
Sometimes less is more.
NHL owners don't care about cards. Remember the money the NHL gets from these companies is divided up among many NHL owners. It's not much money for people who are usually already very wealthy.
That being said, most of these guys would bend down and grab a quarter off the ground - so you better believe they'll let people make cards with their teams' logo on it for money.
One of the biggest reasons why leagues like exclusives is it's less work for them. Remember, each card needs to be approved by a rather lengthy approval process. It's explained well in this article: 
To date, Panini & Upper Deck have pumped out over 41,000 cards during the 13/14 NHL season. And the seasons not over!
Imagine paying someone to approve all that. It'd be a full time job, and the NHL licenses 1,000's of other products.
Sometimes less is more.
Panini got into the trading card in a big way beginning in 2009. Since then, based on reports,  I'd estimate Panini has spent $60,000,000+ on just "endorsements, rights and memorabilia deals." They also employ 110+ people. 
That's a ton of money. ... No wait - that's a **** ton of money.
Why would you invest all that money and let Upper Deck outbid you for a license that the NHL is only going to sell to the highest bidder?
Because it's not worth it. Today's "decision" by the NHL was as much Panini's top brass sticking to a price that will actually make them money. Remember, if Panini had come up with more cash they would have the exclusive ... and the fact Upper Deck bought it shows you how much an NHL license is worth.
Not much. Especially to a company that is trying to sell for 1 billion Euros.
Don't be surprised the top brass at Panini Group divest even further from the trading card business in the future. That goes for current or future potential buyers of Panini. Making high end trading cards is both labor and capital intensive - stickers aren't.
Sometimes less is more.
Personally I think collectors are the only ones who loose in this situation.
#1 Upper Deck lands an exclusive license they needed, especially having Gretzky locked up.
#2 Panini ditches something that doesn't make them much money, and allows them to focus more man hours on the sports they do still have. Not to mention, the company has been for sale for over a year. Maybe potential buyout groups want this to be a sign of things to come? Panini's never going to come out with a press release and blame anyone but the NHL - that's because they can't say "we didn't bid high enough because our strategy going forward is going to be different"
#3 The NHL gets to cut down on the number of cards/sets they need to approve - therefore cutting headaches on their end. They don't care about Upper Deck or you. When Upper Deck's license expires, they'll squeeze the next idiot who wants to pay the most for it. These NHL owners all didn't get rich being nice to people.
Personally I see today as more of a strategy shift that will be taking place at Panini than the NHL making a big move. Leagues care about money, not companies, cards or collectors. Blame who you want - but Panini ain't gonna make it rain like they have the last 5 years.