Details

Created on Thursday, 31 July 2014 13:42
Links From The NSCC In Cleveland


Tweeters Worth Following:

Videos From NSCC
 

2014 NSCC Video Playlist


July 30 - July 3 - Sports Card Radio
 

Blowout Cards Booth


August 1, 2014 - Sports Card Radio
 

DA Card World Booth


August 1, 2014 - Sports Card Radio
 

TriStar Autograph Pavilion 


August 1, 2014 - Sports Card Radio
 

Day 2 - Walk Around Show Floor




July 31, 2014 - 

Sports Card Radio
 

Day 1 - Group Breaking Pavilion


July 30, 2014 - Sports Card Radio
 

Day 1 - Sports Collectors Daily




July 30, 2014 - 

Sports Collectors Daily

 

 

Steel City Collectibles Booth




July 30, 2014 - 

Sports Card Radio 
 

Upper Deck Wrapper Redemption




July 30, 2014 - 

Sports Card Radio

 

Topps Booth




July 30, 2014 - 

Sports Card Radio
 

Panini Authentic Booth




July 30, 2014 - 

Sports Card Radio
 

Day 1 Sneak Peak




July 30, 2014 - 

Sports Card Radio
 

Walking To The National




July 30, 2014 - 

Sports Card Radio
 

Panini America Van




July 30, 2014 - 

Sports Card Radio
 

Playing Favorites At NSCC




July 30, 2014 - 

Beckett
 
 
 
 
 
Audio From NSCC
 

@SportsCardNews Interview


July 31, 2014 - Sports Card Radio

 
 
 
---
Prepare for new innovations in the football card category with the announcement of new @PaniniAmerica deal http://t.co/vbFdjavrVg @USATODAY

— NFL Players Inc. (@NFLPlayersInc) July 31, 2014
My Take: All You Topps Baseball guys better start to worry how they will replace this revenue!
---
I know what the big panini announcement is. It's not a very well kept secret though.

— Freedom Card Board (@FCBsportscards) July 31, 2014
My Take: Topps is now invited to the "RIP" Party!!
---

Dealer: "Rumors kid. The FBI is coming....." #NSCCShow

— Sports Card News (@SportsCardNews) July 30, 2014
My Take: The FBI might even have a VIP pass or a booth they show up at this thing so often!
---
CRICKETS at the group breaker pavilion. Dead serious. #NSCCShow pic.twitter.com/PY4kCRSKHt

— Sports Card News (@SportsCardNews) July 30, 2014
My Take: Ripping Wax, Distributors & Panini are laughing all the way to the bank!
---

Hopefully you can see this. Group breaker confirms crickets. You guys didn't know this was the senior citizen show?? pic.twitter.com/cVbkZsS9vy

— Sports Card News (@SportsCardNews) July 30, 2014
 My Take: It will be crickets on the weekend because the 40 customers will all be broke! 
---

Breakers paid good money I would guess and just sitting around chit chatting on camera money well wasted yo! :-)

— NPNCards (@npncards) July 30, 2014
 My Take: Couldn't have said it any better myself!
---

The size of @Leaf_Cards booth is directly proportional to its owner's ego. #NSCCShow pic.twitter.com/CorX9eJjts

— Chris Harris (@stalegum) July 30, 2014
 My Take: LOL - so true!
---

I hope @Dougology and @VOTC are getting big $$$ for doing this fuckfest. #NSCCShow pic.twitter.com/w9B0x0kZpR

— Chris Harris (@stalegum) July 30, 2014
 My Take: These guys are too nice ... or need the money - or both. I'm sure they did great they turned NSCC into hard work.
---

Signing right now at @FCBsportscards !! @natsportsshow pic.twitter.com/lamgpT9daK

— Dale Murphy (@DaleMurphy3) July 30, 2014
 My Take: FCB does cool things at the show. If I'm ever back east I'd visit his store.
---

He's negotiated 500 deals and counting, but he's not a banker: Meet $XPO's CEO Jacobs http://t.co/i56i8P2Rfu by @JCMcCracken & @LesliePicker

— Bloomberg Deals (@BloombergDeals) July 29, 2014
My Take: This guy is the reason I'll probably never have to work again in my life. That's not a joke.
---
Details

Created on Thursday, 26 June 2014 13:22
2014 marks the 3rd year Panini America will hold a VIP party at the National Sports Collectors Convention. This years show is in Cleveland, Ohio.

How to get in for Dealers: Purchase $10,000 of eligible product using MAPP (minimum advertised price policy) from your Panini Authorized Wholesale Distributor.

You must open the $10,000 worth of eligible product at the National. You cannot open the product prior to the show.

In addition to the VIP Pass, eligible products will entitle you to Silver Wrapper Redemption Packs.

Limit: 400 National Silver Wrapper Redemption Packs per person.

How to get in for Collectors: Purchase $7,500 worth of select Panini America products from one of six approved vendors: Atlanta Sports Cards, Blowout Cards, Chicagoland Sports Cards, Dave & Adam's Card World, Marty's Sportscards Exchange and Steel City Collectibles.

Dealer Eligible Products:

Football
2013 Black $100.00
2013 Crown Royale $55.00
2013 Spectra $180.00
2013 National Treasures $1,500.00 (Limit 1 Case Per Dealer VIP Package)

Basketball
2013/14 Crusade $54.00
2013/14 Innovation $75.00
2013/14 Intrigue $112.50
2013/14 Preferred $150.00
2013/14 Select $105.00
2013/14 Signature $90.00
2013/14 Spectra $225.00
 
Hockey
2013/14 Crown Royale $75.00
2013/14 Playbook $75.00
2013/14 Rookie Anthology $75.00
2013/14 Select $90.00
2013/14 Titanium $75.00
2013/14 Totally Certified $60.00

Baseball
2013 America's Pastime $140.00
2013 Golden Age $54.00
2013 Prizm Perennial Draft Picks $55.00

 

---

 

Collector Eligible Products:

Baseball
2013 America's Pastime Baseball
2013 Prizm Perennial Draft Picks Baseball
2014 Golden Age Baseball

Basketball
2013-14 Crusade Basketball
2013-14 Intrigue Basketball
2013-14 Signatures Basketball
2013-14 Innovation Basketball
2013-14 Select Basketball
2013-14 Spectra Basketball
2013-14 Preferred Basketball

Football
2013 Spectra Football
2013 Black Football
2013 Crown Royale Football
2013 National Treasures Football
2014 Hot Rookies Football

Hockey
2013-14 Titanium Hockey
2013-14 Rookie Anthology Hockey
2013-14 Totally Certified Hockey
2013-14 Playbook Hockey
2013-14 Crown Royale Hockey
2013-14 Select Hockey


 
 
 

Products and pricing are from a Panini Authorized Distributor. Sports Card Wholesalers can be found here.

 
 
 

---

 
Details

Created on Friday, 13 June 2014 05:00
Posted by: Ryan

Some random thoughts about the National Sports Collectors Convention. Check out some of the videos and photo galleries from past Nationals at the very bottom of the page. The videos can give you a feel for the show and what to expect.

The Right Mix
Going to the National really opened my eyes to how many different types of collectors there are. Set builders, vintage guys, modern guys, wax rippers, bargain hunters, and that's just the start. It's all in one room. It's intoxicating. It's pure heaven. You'll buy stuff that you would have never bought before. $3 Blaster Boxes even though you'll get nothing good? I'll take two!

Despite the overwhelming amount of dealer tables, you can easily feel like you've seen enough after a day or or so. Not every table will have something you are interested in, you can check out what fits your collecting style. I'd stay for 10 days if it went that long and totally go broke, but I guess people have to go home at some point.

Should You Go?
Stop what you're doing. Go check your bank account. Check the flights to Cleveland. Tune up the old car and check gas prices. Do people still hitch hike? Ok, maybe not. Try Amtrak or Greyhound if you want to rough it.  Call in sick. Lie to the wife. Send the kids to the in-laws. Don't worry about a hotel room right now. I travel a lot, hotels just do last minute. The "Hotels Tonight App" and Priceline's "Express Deals" make it unnecessary to ever have to book hotels in advance. Especially in Cleveland, I mean c'mon.

Whatever you do, TRUST ME YOU WANT TO COME TO THIS AT LEAST ONCE IN YOUR LIFE. I'm not kidding.

Is it Really That Cool?
I've been to a few TriStar Shows, and some other decent local shows near San Francisco, CA. For cards, nothing compares to the National. Not even close. Every time I go to a smaller show, I always enjoy myself, but it leaves me longing for the NSCC. I usually go home and think, is it July yet?

I don't make any money, at all, by going to the National. In fact, I blow and lose a ton. I'm losing money writing this as I could be working on building a profitable website about Pogs. I don't get a comped trip to the NSCC and I certainly don't wear a polo shirt that says Sports Card Radio on it while there. I write this stuff because it's fun and I want people to think about coming to the NSCC someday. Everything I spend related to the National, last year it was well over $5,000, comes out of my own pocket. The National is a charmed event, and I'd be the first guy to tell you if it wasn't worth it.

Male Senior Citizen Show
The demographic is male, overweight, and older. Would you expect anything different? To me, this is actually one of the golden ages of sports card collecting. In 25-50 years all the 1990's collectors who stayed involved in cards will be dead or close to it. Just milk these old men for all they are worth now. Besides, it's not the role of NSCC organizers to get young people involved in the hobby, they aren't the ones producing new cards!

More Set Builders Than Group Breakers
No I'm serious. It's true. Group Breaker Pavilion? Wait till you see all the tables with vintage cards. Graded Vintage Cards are no joke. The PSA Set Registry is no joke. Andrew Luck, Yasiel Puig, Johnny Manziel? At least half the people at the National could care less about those guys. They are looking for Mantle, Mays, Williams, and maybe even a Shoeless Joe.  

Wheel & Deal
You'll find some dealers that seem like they don't want to sell anything. Don't worry, that goes down at coin shows too. Just keep looking and you'll find deals. If I'm buying single cards, I always make an offer lower than what they are asking. Every time they've taken it. Don't insult them, but try to get a good price. I've gotten really good deals on autographs of Hank Aaron, Joe Montana, Pete Rose and many more. Less than what they would cost elsewhere (like on eBay). Sometimes a lot less.

Blowout Cards, DA Card World and Steel City Collectibles have dirt cheap prices on current wax products. Some of the box prices are regulated by Panini and Upper Deck, but most of it isn't. Many of the prices on boxes are around or cheaper than wholesale pricing. If I was a dealer I would find a way to ship a bunch of stuff back with me.

Who Really Makes Money
The top players in the economic food chain at the show as I see it. Unofficial of course.

PSA and BGS Grading
The Soft Serve Ice Cream Cart <-----

$MONEY$

Large Auction Houses
Topps (even though they don't have anything for sale)
Blowout Cards/DA Card World
Any ATM Machine On Site
The guy who bought 10,000 jersey cards for $0.50 each
TriStar Productions
COMC
The athletes signing autographs for money
eBay Seller Probstein123 (who even takes Sunday off)
The guy who had the $1 table in Baltimore

The Topps Line
Topps typically offers up a few different wrapper redemption programs that are always very popular. So popular that drama usually ensues about the "line" to get the limited cards. One person even began taking signups for a "class action lawsuit" against Topps because he didn't get a set. The lawsuit of course never materialized and he was in line the very next day.

What's even more amazing is Topps spends far less marketing themselves at the show compared to Panini, and believe it or not, even some Group Breakers. Every corporate company at the National would kill for the line Topps gets. Every single one of them. Topps can handle the situation however they see fit. What a fortunate position they find themselves in. The worst thing that could happen is for the line to disappear.
 
The Random
The characters at the show are priceless. I randomly met some guy who was toting around a 1970's looking rolling suitcase. Inside he had two things. A full body wet suit that was infamous because it somehow got him kicked off a popular sports card forum. I won't get into the story. The other thing he had inside the suitcase was this old card from like 1918 that was worth $18,000. I looked it up, it was worth at least 18 grand.

It's striking how young some of the Topps employees are.

People will talk your ear off. Not the card dealers for the most part. It's usually guys promoting a website or some kind of service. Nobody cares about your website when there are 500 dealer tables with treasures to be found. C'mon.

It's amazing how many fake autographs and/or cards get "authenticated" by PSA, BGS, JSA, etc. at shows like this. Scary. You guys need to tighten it up, even though I know you're on a short turnaround at shows. I let some things go last year that were egregious errors and I for sure won't bite my lip this year.

Panini spends so much money on marketing, and it's on full display at the National. If they just spent that money on making better cards the word would spread without any effort.

The Midwest is a hotbed for sports collectibles. It should come as no surprise why the National is held in Chicago or Cleveland as of late. If you live in California like I do, or on the West Coast, don't complain. They make these things called airplanes and they are fantastic.

Post Show Fun
Sometimes after the show can be just as fun as browsing dealer tables all day. One time I went to a dinner held by sports card forum Freedom Cardboard. I tell you what, the free pasta was much needed after blowing a bunch of money during the day. What's even better is you get to meet and talk to people about what they like and dislike about the hobby. For me, that is fun.  

The Mojo Break/Layton Sports Cards party at the 2013 NSCC in Chicago was a blast. It was at a bar in what seemed like a really busy casino and a couple girls, way out of my league..... or price range..... made me feel like I had a chance for a second. I can't remember those girls names, but I met several collectors who didn't want to go home either. Everyone was all smiles. I was certainly high on life.

Stuff I'm Looking For at the 2014 NSCC
Tony Wroten, Dennis Schroder, Eric Bledsoe, Michael Olowokandi, any of the good Cubs prospects (Soler, Almora, Bryant, Baez), Barry Bonds autographs, any cheap PSA/DNA certified autograph cards, .10 cent boxes all day long, 1st Generation Beanie Babies, and certainly anything related to the online poker boom of the mid 2000's.

 

---

 

Videos From Past NSCC Shows

2013 National Sports Collectors Convention - Chicago

2012 National Sports Collectors Convention - Baltimore

 

---

 

Photo Gallery's From Past NSCC Shows

 
 

---

 

Past NSCC Write-ups

 
 
 
 
 
 
 
Details

Created on Sunday, 04 May 2014 01:58
By @SportsCardNews -
Food Chain
Let's get one thing straight. Panini and Topps could care less about your shop or online business. You are a dime a dozen. Panini and Topps sell products to wholesale distributors or quasi ones. Those are the real customers. That's who Panini and Topps stroke off. You know who else gets fluffed and buffed? The sports leagues and athletes. Without a license from a sports league or players association, just about everyone at Topps and Panini would be looking for another job.

Where are you on the food chain? Not anywhere near the top. Last I checked the sports leagues, players (and agents), PBM Graphics, card companies, and distributors all get dimed out before you do. All five have built in margins before the product hits your hobby shop or Breakers.TV webcam. Think about that before starting a business, especially one centered around selling boxes of sports cards.
---
Anyone Can Buy Wholesale. Literally.

Despite all that, want to buy sports card boxes at wholesale? Easy. Might be able to complete all the paperwork from your sofa depending what state you live in. Figure out the requirements for your state, and you could be placing an order for some boxes by the end of the day.
Make sure to pay any sales tax, if applicable, to your state. Pay your state/federal income tax like you normally would. You don't even have to sell the boxes if you don't want to. Just tell the sports card distributor you "sell online" or do "group breaks". There are several distributors that will sell to you without any or much vetting process. Or, once you have your tax id number, just sign up for the business to business Dealer Net and buy products off there.
---
Quasi Distributors

Maybe you don't want to fill out a few pieces of paper and deal with some minor tax stuff. No worries. You can and will find boxes of cards priced near or below that of wholesale distributors. You are probably already familiar with these places, DA Card World, Blowout Cards, Atlanta Sports Cards, Big T Sports Cards, Steel City Collectibles are a few in this category. Anyone and everyone can order from these websites.
Here are a couple newer products that are cheaper at quasi-distributors. Prices are from May 3, 2014.
| | |
| --- | --- |
| Wholesale Price | Quasi Wholesale Price |
| 2014 Topps Tribute Baseball: $198 | Blowout Cards Price: $194.95 |
| 2014 Famous Fabrics Big Apple Baseball: $85 | Steel City Collectibles Price: $74.95 |
| 2013-14 Panini Totally Certified Basketball: $85 | Blowout Cards Price: $84.95 |
| 2013-14 Score Hockey Jumbo: $50 | Steel City Collectibles Price: $49.95 |
---
Illegal Rafflers Can Become Dealers



It's astonishingly easy to buy sports card boxes at wholesale cost. There is no barrier to entry. Hobby shops and online sellers have no protection aside from their reputation and level of customer service. The card companies and wholesale distributors don't weed out bad actors, essentially allowing anyone to become a dealer.
U of Mississippi Razz, whose business email is: This email address is being protected from spambots. You need JavaScript enabled to view it. was doing breaks of 2014 Bowman Baseball Jumbo, I guess, in between running illegal raffles. During the few minuets I watched his live stream on BoxBusters.tv, the breaker used the homophobic slur f****t.
---
MVP Sports Cards
3333 Bardstown Rd Suite 5  
Louisville, Kentucky 40218

This card shop, located in Kentucky also advertises that they conduct illegal raffles (razz, razzing) on BoxBusters.TV and their Facebook Page.

---
Sin City Sports Cards
3650 S. Decatur Blvd #11
Las Vegas, NV 89103
Well known in the "razzing" community, Sin City Sports is supposedly closing their brick and mortar location. I've witnessed Sin City Cards raffling off spots for a case of 2013 Panini National Treasures Football on Breakers.TV.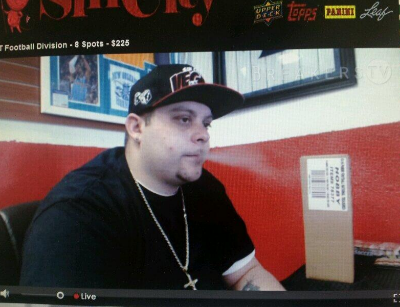 ---
For a short time DA Card World conducted illegal raffles. Quasi distributors aren't necessarily the most noble or sharpest knives in the drawer. If a company is "proud" to take part in illegal activity, what else might they be willing to do?
---
Side Note: Are "Group Breaks" Even Legal You Jerk?
I have no idea. Maybe they are illegal. You could pay the best lawyer to tell you they are legal or not. Guess what? Lawyers don't make laws. If you encounter legal trouble for conducting group breaks, guess what your lawyer will say? "That's unfortunate. Let me look into this for you (pause) at $250 an hour. Trust me, we can beat this."
Raffles, like the ones you clowns do on BoxBusters.TV, are clearly illegal. Clear as day. If you need a lawyer to explain how those raffles are illegal you might be the dumbest person on planet Earth.
---
Products Are Weak

Blowout Cards, DA Card World and other quasi distributors would sell boxes for more if they could. Problem is, there isn't much demand for sports cards. Shocking, I know. You think Topps and Panini give a crap about the quality of their products when they let athletes sign cards like this?
---
Panini and Topps are trying to "hit the numbers", just like every business you've probably worked for. And in a low margin game like producing licensed sports goods, attention to detail isn't high on the priority list. Churning out sticker applied autographs and using redemption cards clearly doesn't suggest they care about the perception of their product. Panini and Topps know they have enough people out there with a gambling itch. Are you one of them?
---
Allocations
So wait! There are a few products each year that have demand. Yes! Whoo Hoo! This is when hobby shops and online sellers make all their money right? Wrong! This is when Panini, Topps, and the wholesale distributors cash in!

Remember where you are on the food chain. You think you're going to make money on Bowman and National Treasures before those ahead of you at the dinner table? Please. You're going to get what they call "allocated". If you bought enough of the junky products over the last year, maybe you'll get all the good boxes/cases you need. Maybe. The card companies and distributors eat before you do. Remember that.
---
Comped Out

When was the last time Topps or Panini invited you to the NFL Rookie Premiere, or a VIP party? Never? Shame, because you could have gotten face time..... with your distributor..... at these events. One sports card distributor told me he had been going to the NFL Rookie Premiere for the last 15 years. The freebies that get sent distributors way will make your mouth water. Autographs, jerseys, free stuff, a direct line of communication. You shop owners and breakers don't get much of that. Think about where you are on the food chain to figure out why.
---
Eliminate Bad Actors

Anyone should be given a shot to start a sports card business. But there needs to be far more regulation from distributors and card companies when bad sellers arise. Illegal "razzers" should not be able to buy from a wholesale distributor and conduct a business. It's a slap in the face to hard working shop owners and group breakers trying to run a legitimate operation. It takes money out of their pocket. Selling cases/boxes is hard enough, allowing individuals who freely flaunt illegal activity to become dealers gives further credence that the sports card industry is a joke.

---